This might be of some news to any locals here, though I understand this new casino has had financial problems for a while. Well they are filing for Chapter 11 bankruptcy which, as I understand, will still allow it to operate while lenders work out a deal. But as the article says, they still need to do some major work to make it profitable. So much for build it and they will come.....
Revel, Atlantic City's newest casino, to file for Chapter 11 bankruptcy in March
Posted: Tuesday, February 19, 2013 7:58 pm | Updated: 9:46 pm, Tue Feb 19, 2013.
By HOA NGUYEN and DONALD WITTKOWSKI Staff Writers pressofAtlanticCity.com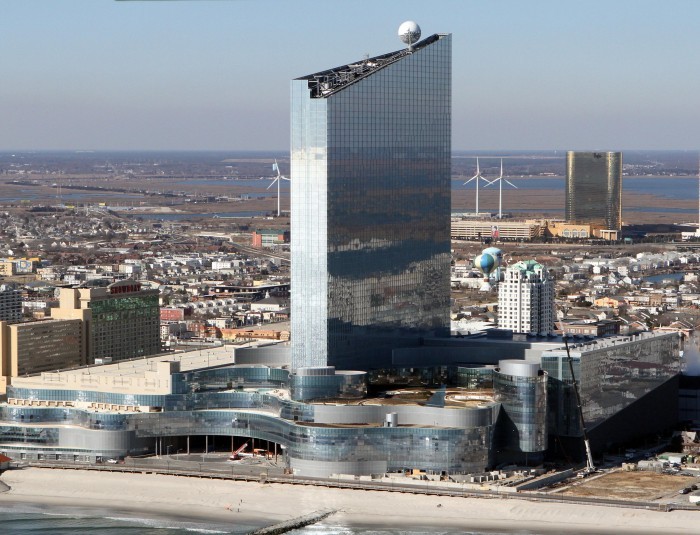 Revel will file for bankruptcy and give creditors a greater equity stake in the casino, which will reduce its debt by more than $1 billion and allow it to continue operating, officials said late Tuesday.

The deal to proceed with a pre-packaged Chapter 11 bankruptcy was reached with a majority of its creditors and is expected to conclude by early summer, Revel said.

Casino operations, visitors, employees or vendors are not expected to be impacted, officials said. Revel will continue to operate with no anticipated interruptions, and employees and vendors will be paid in the normal course of business, the casino said.

"Today's announcement is a positive step for Revel," Kevin DeSanctis, the casino's chief executive officer, said in a statement issued late Tuesday. "The agreement we have reached with our lenders will ensure that the hundreds of thousands of guests who visit Revel every year will continue to enjoy a signature Revel experience in our world-class facility."

As part of the deal, lenders will put forward $250 million in debtor-in-possession financing with about $45 million in new money commitments, officials said. No taxpayer money will be involved, officials said. The restructuring will improve Revel's cashflow and allow it to better support operations, officials said.

"This restructuring positions Revel for long-term success by providing the company with the operational flexibility to invest in the growth of our business," Michael Garrity, Revel's Chief Investment Officer, said in a statement.

State officials reacted positively to the deal, saying it was necessary to keep Revel open and improve its financial position.

"The agreement between Revel and its lenders will allow for a necessary financial restructuring and improve the property's financial condition going forward," David Rebuck, the Division of Gaming Enforcement's director. "We see this as a positive step that will allow Revel to comprehensively address its financial needs while continuing normal business operations."

Michael Drewniak, press secretary to Gov. Chris Christie, said officials are committed to Atlantic City's success.

"A rejuvenated Revel will remain an integral part of that landscape, as it continues full operations," he said in a statement. "Most importantly, none of those things that make Revel among Atlantic City's highest-profile attractions will change, as Revel uses this new financial flexibility and the continued backing of its investors to grow the business and be part of Atlantic City's expansion."

Revel, which cost $2.4 billion to build, was one of the first recipients of a Economic Redevelopment and Growth tax incentive award of $261 million from New Jersey. The award allows Revel to receive a rebate of tax revenues over 20 years but did not provide taxpayer funds up front, officials said.

State Senate President Stephen Sweeney, D-Cumberland, Gloucester, Salem, who has been critical of the state's financial oversight of Revel, said he was not surprised by Revel's announcement.

"We knew that was coming and honestly, honesty, I'm really disappointed, not happy at all," Sweeney said.

The senator said he wants to see the lenders who are taking control turn the casino around.

"We have to find a way to make it profitable and make it work," Sweeney said. "It's too important to Atlantic City and the gaming industry not to see it turn around."

Local 54 of UNITE-HERE, Atlantic City's largest casino union and one of Revel's most outspoken critics, said the bankruptcy confirms its warnings about the property's heavy debt and business strategy.

"Three and a half years ago, we were telling people this was not a good idea," Local 54 President Bob McDevitt said, referring to talks with the governor's office, city officials and other political leaders. "We warned them this would be a catastrophe, but no one listened. Now, it's a catastrophe."

McDevitt said Revel was hurt by a "suffocating debt load and a business plan that was poorly executed" in a market that has lost more than $2 billion in gambling revenue in the last six years.

Local 54 has battled with Revel over efforts to unionize its work force. McDevitt said Revel refuses to talk to Local 54.

McDevitt believes the most important thing is to protect Revel's workers as the casino goes through bankruptcy.

"We need to do whatever we can to make sure the workers keep their jobs," he said.
http://www.pressofatlanticcity.com/c...a4bcf887a.html