First were the buses. Now atheists get a student society
Thursday 19 February 2009
Every religion on campus has its student society, from the Christian Union to the Jedi Knights. Now the non-religionists will have theirs too.
The National Federation of Atheist, Humanist and Secular Student Societies launches today to mobilise non-believers.
The "anti-God squad", as it is happy to be called, says it will fight for the voices of what it believes to be the majority of students to be heard on campus and further afield.
It is planning campaigns and events across the country to protest against religious privilege and promote the understanding of science.
It has the support of some of the country's leading critics of religion: the scientist Richard Dawkins, the philosopher AC Grayling, and the Guardian columnist Polly Toynbee.
The launch comes four months after a campaign for 30 London buses to parade
the slogan: "There's probably no God. Now stop worrying and enjoy your life."
The campaign, first mooted on the Guardian's Comment is Free site by comedy writer Ariane Sherine, began in response to evangelical Christian adverts on buses.
entire article:
http://www.guardian.co.uk/education/...tudent-society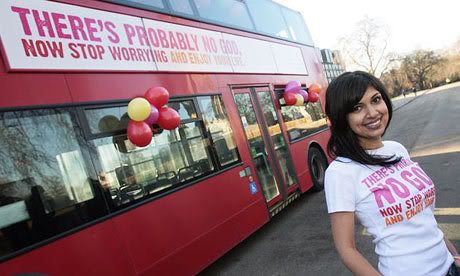 She said: "We need to oppose zealotry and fanaticism of all sorts by promoting the positive and liberating case for believing that life on earth is precious, because the here and now is all there is, and our destiny is in our hands.
"The humanist view of life is progressive and optimistic, in awe of human potential, living without fear of judgment and death, finding enough purpose and meaning in life, love and leaving a good legacy. It is great to see these values being taken up by today's students."